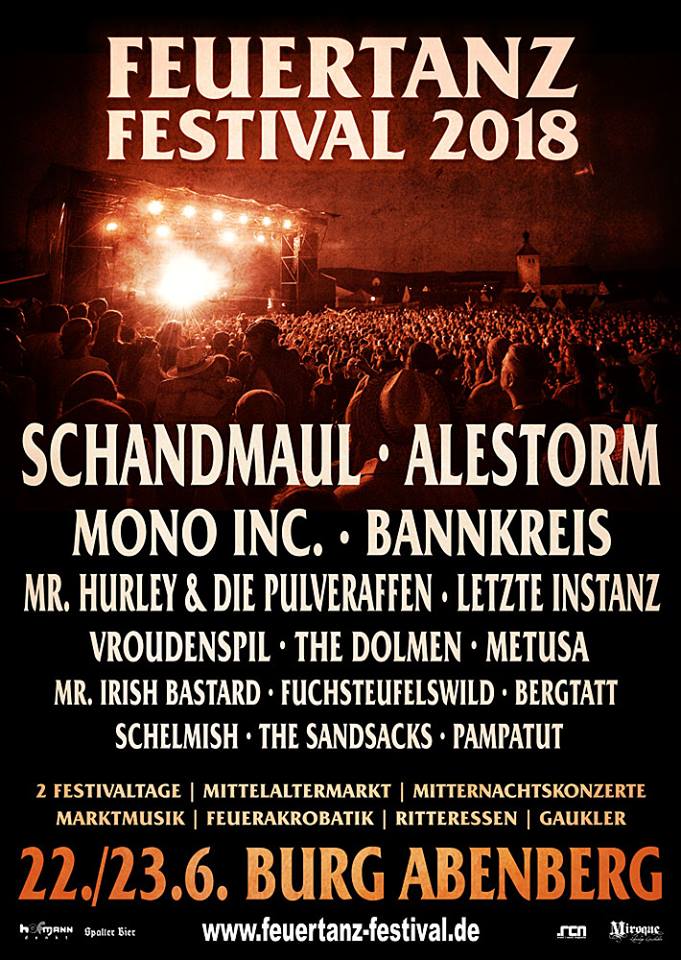 Im komplett neuen Design präsentiert sich die Webseite unseres Lieblings Festivals – dem Feuertanz Festival 2018!
Nichts geändert hat sich natürlich am mittelalterlichen Spektakel und dem familiären Treiben rund um die Burg. Diese öffnet am 22./23. Juni wieder ihre Tore und bietet unzähligen Mittelalter-Fans ein zu Hause. Beim Thema Headliner fährt der Veranstalter wie im vergangenen Jahr die gleiche Schiene. Die "True Scottish Pirate Metal" Alestorm wird definitiv etwas frischen Wind ins Lineup am Freitag bringen. Ein super Schachzug, denn gerade beim Headliner für ein Mittelalter-Festival ist die Auswahl doch eher begrenzt. Am zweiten Tag wird es aber dann mit Schandmaul wieder mittelalterlich zugehen.
Durchs diesjährige Programm führen zwei alte Bekannte, nämlich Pampatut.
---
Running Order 2018
Freitag, 22.06.2018
11:30 Einlass
13:00 FUCHSTEUFELSWILD
14:00 Umbau
14:30 METUSA
15:45 Umbau
16:15 VROUDENSPIL
17:30 Umbau
18:00 LETZTE INSTANZ
19:15 Umbau
20:00 MONO INC.
21:15 Umbau
22:00 ALESTORM
24:00 SCHELMISH (Burgsaal)

Samstag, 23.06.2018
11:30 Einlass
13:00 BERTATT
13:45 Umbau
14:10 MR. IRISH BASTARD
15:20 Umbau
15:50 PAMPATUT
16:20 THE DOLMEN
17:30 Umbau
18:00 MR. HURLEY & DIE PULVERAFFEN
19:15 Umbau
22:00 BANNKREIS
21:15 Umbau
22:00 SCHANDMAUL
24:00 THE SANDSACKS (Burgsaal)
Weitere Informationen zu den einzelnen Kapellen findet Ihr auf www.feuertanz-festival.com
---
Mittelaltermarkt beim Feuertanz Festival 2018
Natürlich gehört zu einem Mittelalter-Festival auch ein Markt. Auf Grund des doch recht geringen Platzangebotes ist dieser zwar klein und überschaubar, dafür bietet er aber eine gewisse familiäre Atmosphäre.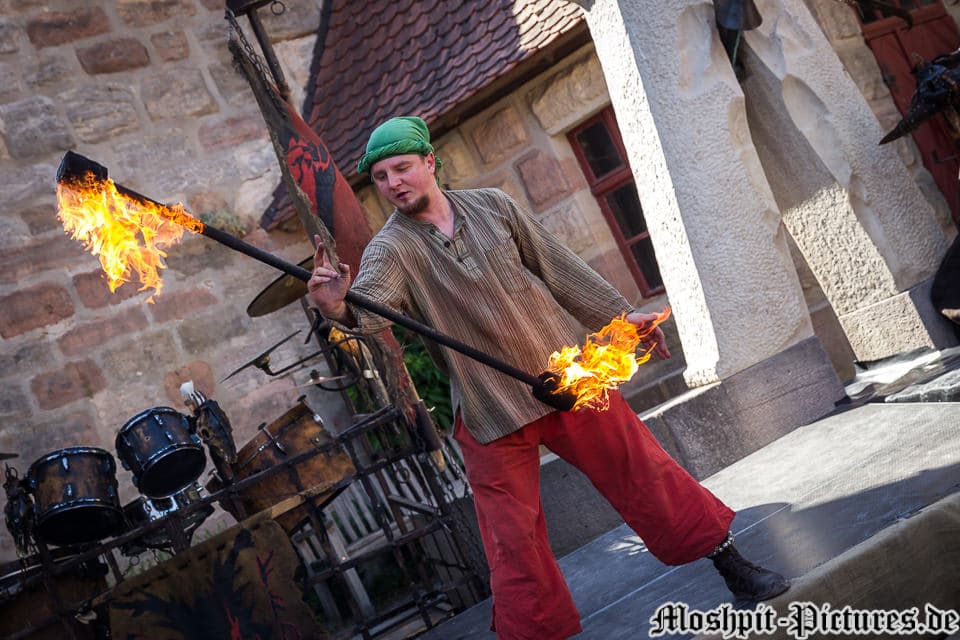 Was bietet mir der Markt nun alles ?
Händler mit historischen Waren (Gewandungen, Schmuck)
Lederwaren und Accessoires
diverse mittelalterliche Spezialitäten
Feuershows, Marktmusik und Gaukler in den Konzertpausen
Museumsführungen im "Haus fränkischer Geschichte"
Grandioser Ausblick vom Burgturm
---
Camping beim Feuertanz Festival 2018
Eure mittelalterlichen Leinenstoff Behausungen könnt Ihr natürlich wie gewohnt auf einem der beiden Campingflächen aufbauen.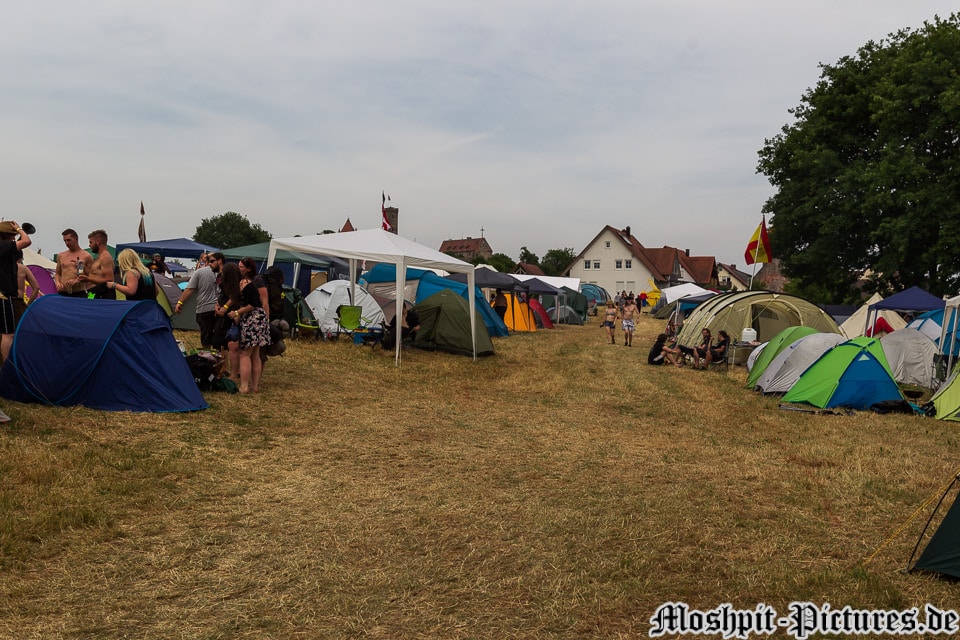 Zahlen und Fakten:
Donnerstag 21.06 12 Uhr – Sonntag 24.06 12 Uhr
Parken und Zelten ist getrennt
Hunde sind auf dem Campingplatz nicht zugelassen
Es gibt ausreichend Stellplätze für Wohnmobile und Wohnwägen
Im Feuerwehrhaus werden Duschen für Verfügung gestellt
Frühstückstand mit zivilen Preisen der Metzgerei Seefried
Kostenloser Badeweiher ein paar Gehminuten vom Campingplatz entfernt
15€ pro Person, die vor Ort zu bezahlen sind
ACHTUNG: Bitte beachtet die Campingregeln!
---
Einlassinformationen beim Feuertanz Festival 2018
Rucksäcke/Taschen: Aus Sicherheitsgründen sind nur Gürtel-, Brust und kleinere Taschen bis DIN A4 erlaubt.
Getränke: Pro Person kann ein nichtalkoholisches Getränk (Plastik, PET, Tetrapack) mit max. 0,5l Inhalt mitgenommen werden.
Foto/Video: Nicht zugelassen sind Videokameras und Spiegelreflexkameras (Profiausrüstung)
Schwerter und sonstige Waffen müssen absolut stumpf bzw. ungeschliffen sein.
Stockschirme. Stühle oder sonstige Sitzgelegenheiten sind nicht gestattet.
Killernieten müssen ebenfalls ungeschliffen und verletzungsungefährlich sein.
Hunde sind weder auf dem Festivalgelände noch auf dem Campingplatz zugelassen.
Kinderwagen sind auf dem Festivalgelände nicht gestattet.
Auch dieses Jahr wird es Einlassbändchen aus Stoff mit Logoeindruck geben.
---
Unwetter-Infos des Veranstalters
Regen: Gummistiefel und Regenponchos sind ein Muss auf jedem Festival. Stromkabel oder Stecker nicht in Wasserpfützen legen.
Sturm/Gewitter: Da der sicherste Ort an einem Festival das Auto ist, bietet anderen Festivalgästen bitte Unterschlupf an. Signalisiert mit Warnblinkern, dass Ihr noch freie Plätze. Meidet bewaldete Flächen und Bäume, da dort Äste abbrechen oder herunterfallen und zu ernsthaften Verletzungen führen können. Wir halten selbstverständlich alle Sicherheitsvorschriften ein und alle Aufbauten werden von den zuständigen Behörden abgenommen, gleichwohl besteht trotz aller Vorkehrungen immer ein Restrisiko. Also meidet diese ebenfalls! Verschließt stets Eure Zelte und sichert lose Gegenstände bevor Ihr auf das Festivalgelände geht.
Seid Ihr im Freien und habt keinerlei Möglichkeiten Schutz zu suchen, beachtet Folgendes:
Blitze suchen sich immer den höchsten Gegenstand in der Umgebung.
Sucht eine Mulde im Boden und geht in der Vertiefung mit geschlossenen Füßen in die Hocke
Haltet Abstand von Bäumen: Blitze schlagen häufig in Bäume ein, da diese oft den höchsten Punkt in der Umgebung bilden. Hier gilt: Abstand von mindestens zehn Metern halten!
Haltet einen Sicherheitsabstand zu anderen Menschen von mindestens 1 Meter, besser 3 Metern. Berührt keine anderen Menschen! Haltet die Beine geschlossen.
Schwimmen ist lebensgefährlich. Offenes Wasser ist bei Gewitter gefährlich!
Auf Anweisungen (Lautsprecherdurchsagen) des Veranstalters achten und diesen unbedingt Folge leisten.
---
Anfahrt
---
Informationen